500 N Betta presents: Difference - The Fashion Brunch 2019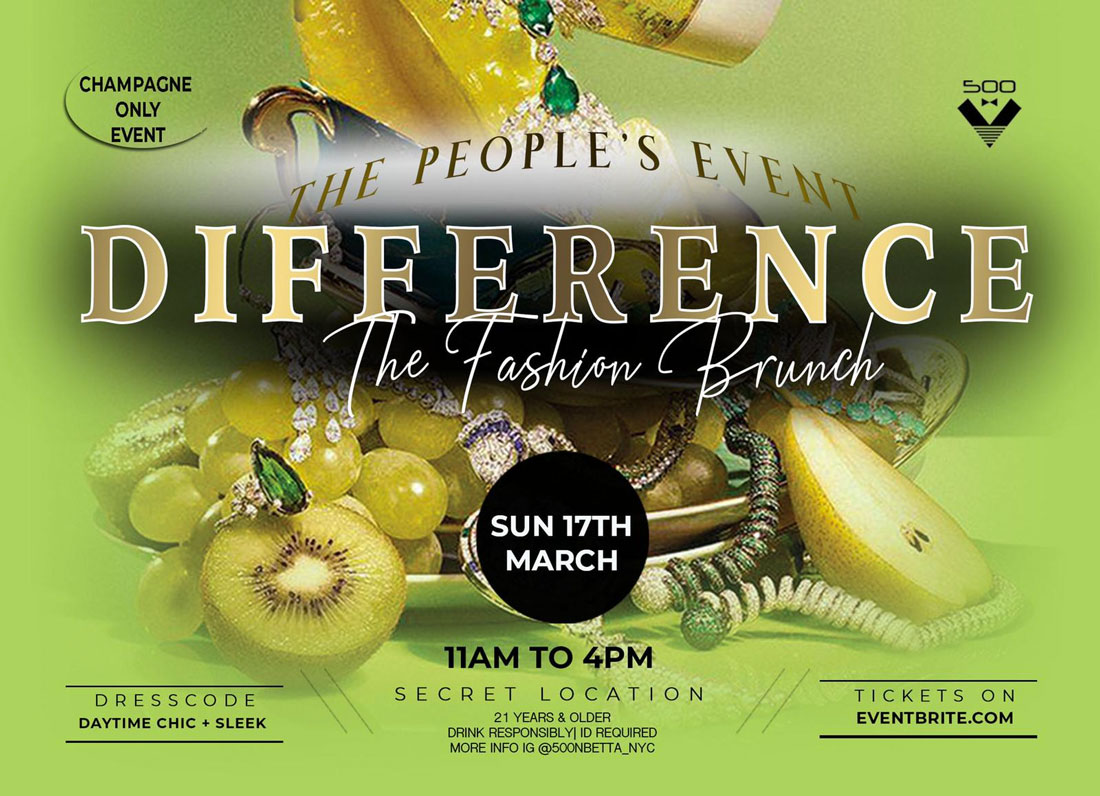 TO GOOD EATING, BELONGS GOOD DRINKING AND GREAT ENTERTAINMENT.
Look no further, 500NBETTA EVENTS presents #DIFFERENCE – The Fashion Brunch. The most thrilling and entertaining Daytime Brunch Event in the tristate Area.
This is THE PEOPLE'S EVENT | BRUNCH OF THE PEOPLE | **CHAMPAGNE ONLY EVENT**
Time: 11:00am - 4:00pm Brunch – Inclusive Bottomless Mimosas (11AM-2PM) & Delectable Food.
STRCITLY 90" s -2005 music from all genres; GREAT FOOD, UNMATCHED VIBES & DID WE MENTION GREAT FOOD!!!!!
Sunday, March 17,2019 | Early Attendance Highly Suggested | Doors Open at 11am - 4pm
Ticket Tier $0 - $45.00 per person [Food and Mimosa all-inclusive with purchase of ticket].
****CHAMPAGNE ONLY EVENT****
Entertainment By: TRI-STATE AREA BEST
Requirements for Boarding
Dress-code | DAYTIME CHIC, SLEEK, COZY & STYLISH, | MUST BE 21 & OLDER. VALID ID IS REQUIRED.
** Brunch Menu**
Ackee & Saltfish
Brown Stew Chicken
Fried Chicken & Muffin
Fish Fillet
Callaloo & Saltfish
Fried Plantain
Fried Dumpling
**All served with boiled provision | Food will be served from 11am while supplies last !!
If you want to EAT GOOD FOOD, sip on good Mimosa and some cocktails; enjoy great music and have fun with your friends, then this is the Day Event for you.
Kings & Queens!!!! Be Different. Be Free. Be In-style. Be Bold.
Brunchin' | Never Looked This Different & Excitin | Grown & Sexy.
For more info contact us Via email: 500events.info@gmail.com
Follow @500NBETTA_NYC for all Info !!